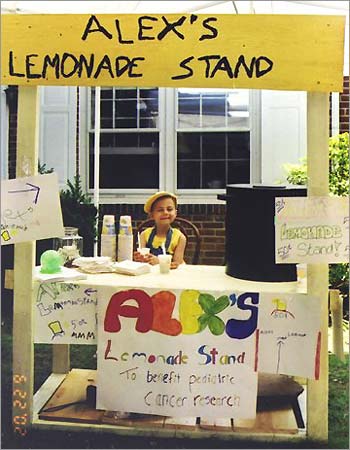 Alexandra "Alex" Scott
was diagnosed with neuroblastoma just two days before her first birthday. She bravely fought for her life, but sadly, passed away at the age of 8. When Alex was only 4 years old, she opened her first lemonade stand to raise money for pediatric cancer research, and earned around $2,000. Since then she had earned $200,000 from her leomande stand alone and has inspired a chain of lemonade stands to open across the US, Canada, and France. Alex had a goal to raise $1 million dollars and she almost got there, go to
www.alexslemonade.com
to donate or learn how to start your own stand now!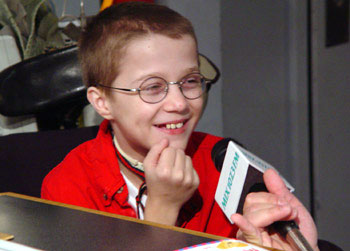 Matthew "Mattie" Stepanek
was born with Muscular Dystrophy and since then has went through a roller coaster ride of health flucuations. He sadly passed away at the age of 13. Since the mere age of three, when Mattie says he began writing poetry, he has had 5 books and a CD out from the best selling series of "Heart Songs". As he said on Oprah, he wanted to be a peacemaker, and that is just what he was. Everyone who learns about Mattie falls in love with his life philosophy. He was truly an awesome being. I think it was Oprah who said that Mattie was what God meant all people to be. You can find out more information at his website at
www.mattieonline.com

"' Uncle Tom' said Eva, 'I'm going there.'
'Where, Miss Eva?'
The child rose, and pointed her little hand to the sky; the glow of evening lit her golden hair and flushed cheek with a kind of unearthly radiance, and her eyes were bent earnestly on the skies.
'I'm going there,' she said, 'to the spirits bright, Tom; I'm going, before long.' The faithful old heart felt a sudden thrust; and Tom thought how often he had noticed, within six months, that Eva's little hands had grown thinner, and her skin more transparent, and her breath shorter; and how, when she ran or played in the garden, as she once could for hours, she became soon so tired and languid. He had heard Miss Ophelia speak often of a cough, that all her medicaments could not cure; and even now that fervent cheek and little hand were burning with hectic fever; and yet the thought that Eva's words suggested had never come to him till now.
Has there ever been a child like Eva? Yes, ther have been; but their names are always on grave-stones, and their sweet smiles, their heavenly eyes, their singular words and ways, are among the buried treasures of yearning hearts. In how many families do you hear the legend that all the goodness and graces of the living are nothing to the peculiar charms of one who is not. It is as if heaven had an especial band of angels, whose office it was to sojourn for a season here, and endear to them the wayward human heart, that they might bear it upward with them in their homeward flight. When you see that deep, spiritual light in the eye, -when the little soul reveals itself in words sweeter and wiser than the ordinary words of children, -hope not to restrain that child; for the seal of heavens is on it, and the light of immortality looks out from it's eyes."
-Harriet Beecher Stowe 'Uncle Tom's Cabin'